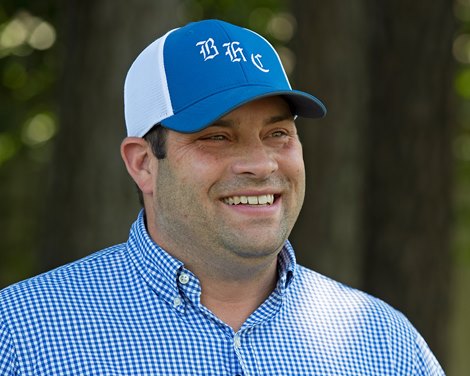 Road to Horse of the Year Runs Through Cox's Barn
Start a conversation today about Horse of the Year and it could rage for hours.
Yet once nine of the world's best Thoroughbreds battle over the course of 1 1/4 miles in the California sun and someone emerges victorious Nov. 6 in the $6 million Longines Breeders' Cup Classic (G1) at Del Mar, all of that conjure may become a moot point. 
As much as there are numerous ways the voting could end in January, there's one simple fact about how that chase for racing's grand prize has taken shape.
The road to 2021 Horse of the Year honors runs directly through trainer Brad Cox's barn.
Should either of his Classic starters—the Korea Racing Authority's Knicks Go   and Godolphin's Essential Quality  —win the last of 14 Breeders' Cup contests this year at Del Mar, it would take an upset bigger than Truman beating Dewey to deny them of the crown.
"If one of my colts wins the Breeders' Cup Classic, they would not have to do anything else to be Horse of the Year, in my opinion," Cox said.
That opinion is surely fact rather than fiction. It will be decided at 5:40 p.m. PT Saturday, with the Classic televised on NBC.
Knicks Go, a son of Paynter   who was bred in Maryland by Angie Moore, currently tops the National Thoroughbred Racing Association poll, which is basically a straw poll for Horse of the Year. He is the 5-2 morning-line favorite in the Classic.
Knicks Go trains Nov. 4 at Del Mar
The reigning Big Ass Fans Breeders' Cup Dirt Mile (G1) winner started his 2021 campaign way back in January, before Tom Brady won another Super Bowl ring, by breezing to victory in the $3 million Pegasus World Cup Invitational Stakes (G1). That roll for the 5-year-old horse has continued through early November at Del Mar, where there will be California dreaming of championships this weekend but the leaves never seem to turn brown. He then added wins in the Whitney Stakes (G1), Prairie Meadows Cornhusker Handicap (G3), and the Lukas Classic Stakes (G3). Though there were a pair of fourth-place finishes in the Saudi Cup and Hill 'n' Dale Metropolitan Handicap (G1), a victory Saturday would give him a $10 million trio of the Pegasus, Whitney, and Classic that would seem impossible to top.
"I know sometimes the Eclipse Award is based on the second half of the year, but I think you have to take into consideration the whole year and an entire body of work, whether it's a human or equine category," Cox said. "January does count. It means something. I think when you've been running since January, there's something good to be said about it."
For the Korea Racing Authority, just the prospect of securing Horse of the Year laurels with a runner they bought for $87,000 from the Woods Edge Farm consignment at the 2017 Keeneland September Yearling Sale is a tremendous thrill.
"We are fortunate that in such a short period of time as six years we have a horse who could be the favorite for the Breeders' Cup and Horse of the Year," said Jun Park, racing manager for the KRA. "Horse of the Year would be a tremendous honor we can put on our résumé. Knicks Go has been brilliant, yet we feel it's going to be a great challenge for him in the Classic. Still, we think he can do it."
Destined to become a sire at Taylor Made Stallions after his racing career, the lightning-quick $5.55 million earner will be racing beyond 1 1/8 miles for the first time and figures to be closely monitored by a bevy of grade 1-winning speedsters on the front end that's topped by Kentucky Derby Presented by Woodford Reserve (G1) winner Medina Spirit  and Art Collector  with Hot Rod Charlie  and Max Player  not too far behind.
Should the pace become incendiary, that would boost the chances of Essential Quality (3-1 morning line), a practically perfect 3-year-old son of Tapit  . He won the TVG Breeders' Cup Juvenile Presented by Thoroughbred Aftercare Alliance (G1) last year by a little less than a length over Hot Rod Charlie and has only raised his game since.
Essential Quality gallops Nov. 4 at Del Mar
An undefeated 2-year-old champion and $4.2 million earner, he has won five of six 2021 starts, topped by wins in the Belmont Stakes Presented by NYRA Bets (G1) and Runhappy Travers Stakes (G1). His lone loss for Cox came in the Kentucky Derby when he was bumped at the start and finished a wide fourth, a length behind Medina Spirit.
Third in the NTRA poll, give the top 3-year-old male a win over his elders in the Classic and that's a year that seems a cinch to be voted the best of them all.
"You can say it about Essential Quality and Knicks Go," Cox said. "They haven't just been the horse of the summer, or the fall. or the spring. They've been the horse of the whole year. They both have an incredible résumé and they have been running at a high level all year."
While Knicks Go is a one-dimensional front-runner, Essential Quality's tactical speed has on occasion meant the difference between victory and defeat, such as it did in the Belmont when he wore down a determined, front-running Hot Rod Charlie and prevailed by 1 1/4 lengths.
"What we've noticed about him, and it has a lot to do with the record he has put together as a racehorse, is his ability to adapt to the pace. He caught a hot pace in the Breeders' Cup Juvenile last year and he was able to close into it and get a victory in the short stretch at Keeneland. So he definitely can adjust to a pace and that should play into his hands in the Classic," Cox said. "Essential Quality has done really, really well. He's thriving now and enjoying the cooler weather. He's on his toes and feeling well."
Heading into what looms as his final start before he joins Godolphin's regal array of stallions at Jonabell in Kentucky, Essential Quality, the 3-1 second choice, can provide a giant-sized exclamation point to a phenomenal year for Sheikh Mohammed bin Rashid Al Maktoum's worldwide operation.
The gray 3-year-old already provided them with their first Triple Crown win under the Godolphin banner, recording it on the same day as the stable's Adayar  won the famed Cazoo Derby (G1) at Epsom (a.k.a. the Epsom Derby). Earlier in the year, Mystic Guide  won the Dubai World Cup Sponsored by Emirates Airline (G1) for Godolphin and now Essential Quality could bring home the first Classic win (Sheikh Mohammed owned a share of 2008 Classic winner Raven's Pass  through Darley Stable) and an American Horse of the Year crown for the Godolphin brand.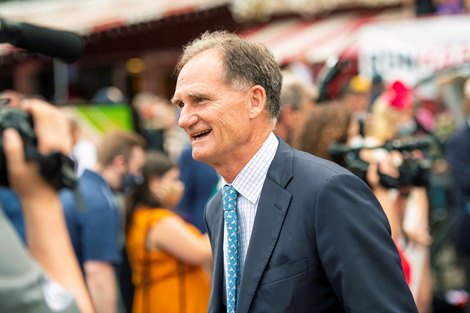 Jimmy Bell
"We feel fortunate to feel like we're a part of this and have a very legitimate contender in the classic. We'll see how things unfold, but, gee whiz, it's been a great ride this year," said Jimmy Bell, the president and racing manager of Godolphin USA who retires by the end of the year. "The Classic is the race a lot of people pay attention to. There are a lot of horses sporting some very good records going into the race. There are some other horses who have had phenomenal years themselves, but this should be a very interesting race."
Of course, even with the two morning-line choices, that's hardly a guarantee of success in a race with nine of the world's best dirt horses.
Should both Knicks Go and Essential Quality fall short Saturday, then the gifted 5-year-old Super Saver   mare Letruska  may become the favorite to be named the fairest of them all if she can win the $2 million Longines Breeders' Cup Distaff (G1).
Currently, she's second in the NTRA poll, with 279 points and five first-place votes to 302 and 21 for Knicks Go. She has won six of seven 2021 starts with one second and has four grade 1 victories numbered among those totals, but she did not venture outside of filly and mares races and tackle males which could ultimately cost her HOY votes.
Letruska walks to the paddock Nov. 2 at Del Mar
"If you check what she's done, I think it's very difficult to ask for more," trainer Fausto Gutierrez said. "She started in the month of January and now we are at November. She traveled around to the strongest (female) races, different tracks, and she won each one."
If she goes down to defeat, well, then it's anyone's guess based on what else happens over the course of 14 Breeders' Cup races. 
The competitiveness and importance of the Classic is reflected in the thought that for all Essential Quality has done in 2021, with a poor showing he could go from a top Horse of the Year contender to a runner-up in the champion 3-year-old male race.
Given that Hot Rod Charlie was third in the Kentucky Derby, finishing ahead of Essential Quality, and won the Pennsylvania Derby (G1) in his last start, then a victory over a star-studded field in the Classic would give him an edge in head-to-head meetings with Essential Quality and perhaps make him the division champ.
(L-R): Hot Rod Charlie and Lava Man on the track Nov. 3 at Del Mar
A least, that how Bill Strauss, one of Hot Rod Charlie's owners, sees it.
"It's out of our control, but if you're a 3-year-old and you win the Breeders' Cup Classic, you have to be in the talk," Strauss said. "With Essential Quality, we beat him in the Kentucky Derby. He beat us in the Belmont Stakes. It's 1-1. I have nothing but respect for Essential Quality, but I think the voters would have to stand up and take notice if we win the Classic and think really hard about who to vote for. Let's see how both horses run."
Both horses. It's a recurring theme of the 38th Breeders' Cup Classic.
Essential Quality and Hot Rod Charlie.
Knicks Go and Essential Quality.
As much as there might be some twists and turns on Saturday on the road to an Eclipse Award, the path for the award everyone in the sport covets, Horse of the Year, will run straight through Brad Cox's barn.
As the second and final day of the Breeders' Cup unfolds at Del Mar, that's as certain as knowing that it never rains in Southern California. 
It pours, man, it pours.