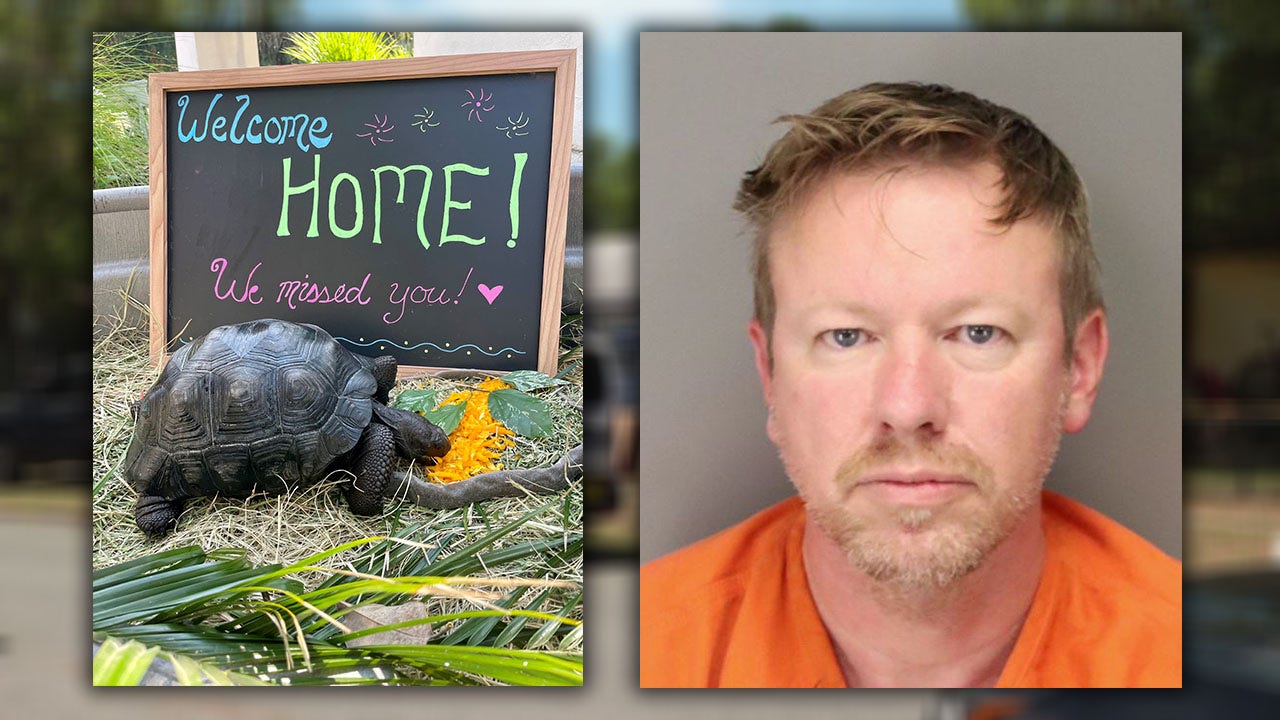 Rare stolen tortoise returned to Florida zoo as investigators continue searching St. Pete suspect's home
ST. PETERSBURG, Fla. – An endangered Galapagos tortoise is back home at a St. Augustine zoo Wednesday after investigators said a St. Petersburg man stole two back in November.
Meanwhile, officers continue to search the suspect's property in St. Pete.
Pictured: The scene outside a St. Pete home where one of two endangered tortoises were found alive. 
Joshua McCarty-Thomas and another man, who authorities haven't named yet, are accused of stealing the endangered tortoises from the St. Augustine Alligator Farm Zoological Park on November 27, 2022. According to Officer Dee Brown, a spokesperson for the St. Augustine Police Department, the second man is in custody in the Tampa Bay area.
RELATED: Suspect arrested for stealing 2 endangered tortoises from Florida zoo; 1 found dead in freezer: Police
"This wasn't a theft by mistake," Brown said. "These two gentlemen that came in, they did scope out the place. They came in with a baby stroller and then hopped over the enclosure and put the tortoises in the stroller and walked right out of the Alligator Farm."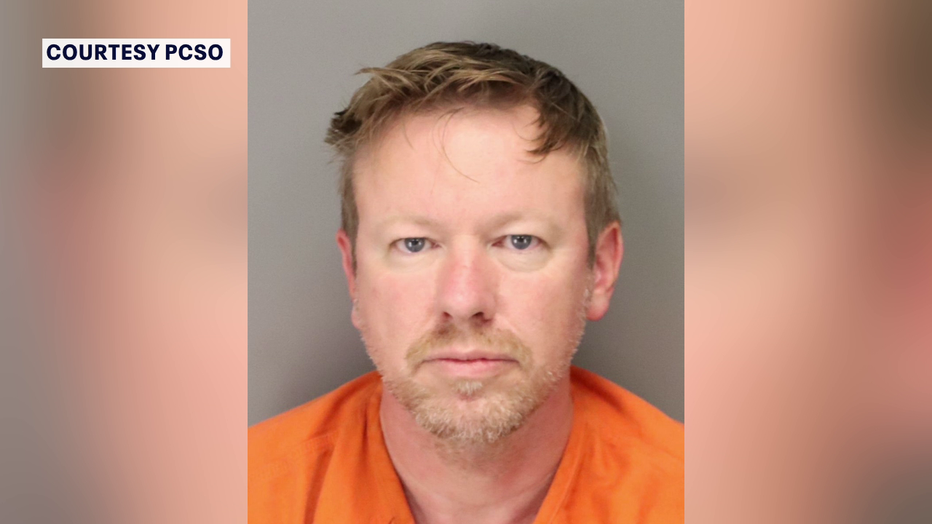 Booking photo for Joshua McCarty-Thomas. 
Brown said the incident happened during business hours. St. Pete police said the other tortoise that was stolen was found dead in McCarty-Thomas' freezer. 
Wednesday, the surviving tortoise was reunited with staff at the Alligator Farm.
"We've been agonizing over this for a long time," John Brueggen, St. Augustine Alligator Farm's director, said. "The end of November is when we realized these tortoises were gone, and so there's been heartache and there's been concern and there's been us going to great lengths to triple our security."
READ: Walt Disney World fight video: Brawl at Magic Kingdom started over photo op disagreement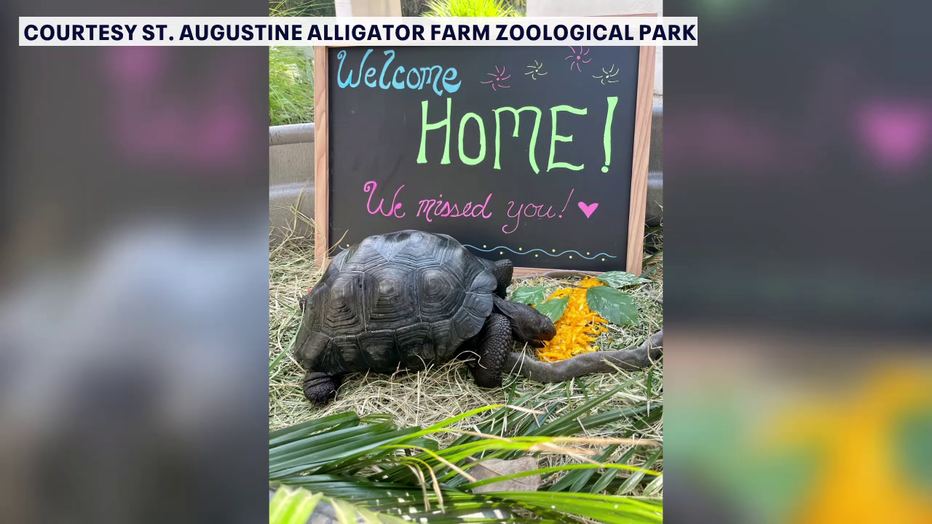 The stolen Galapagos tortoise found alive in the front yard of a St. Pete home was reunited with the St. Augustine zoo.
Brueggen said they've added several new surveillance cameras to the property.
"We're getting at least one of our tortoises back. So, unfortunately, one of the tortoises died at this gentleman's house, and that's bittersweet for us," Brueggen said. "Of course, we'd like to have them both back, but just having some resolution to this, knowing where the tortoises went is extremely helpful for my staff."
Brown said St. Pete police got a tip on an unrelated theft that the tortoises were in McCarty-Thomas' yard and reached out to the St. Augustine Police Department. The two departments then started a joint investigation.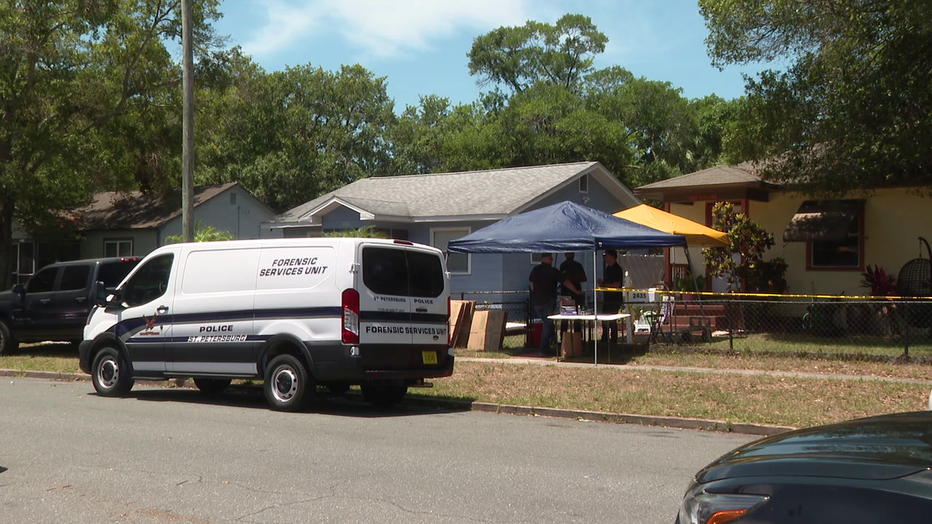 Pictured: The scene a day after St. Pete police found one Galapagos tortoise alive and the second one dead in a freezer. 
They were able to positively identify the animals, because both were microchipped.
"Because we knew we had the microchips in these animals, we were pretty sure that at some point this would be the end result, that somebody would make a mistake. They'd either try to sell these animals or they'd get caught in some other crime, and we would be able to verify immediately that they're our tortoises," Brueggen said.
VIDEO: Struggling newborn dolphin rescued by off-duty Pasco County deputy
According to Brueggen, both Galapagos tortoises were born in 2017, they can live up to 150 years, grow up to 600 pounds and are worth up to $10,000 each.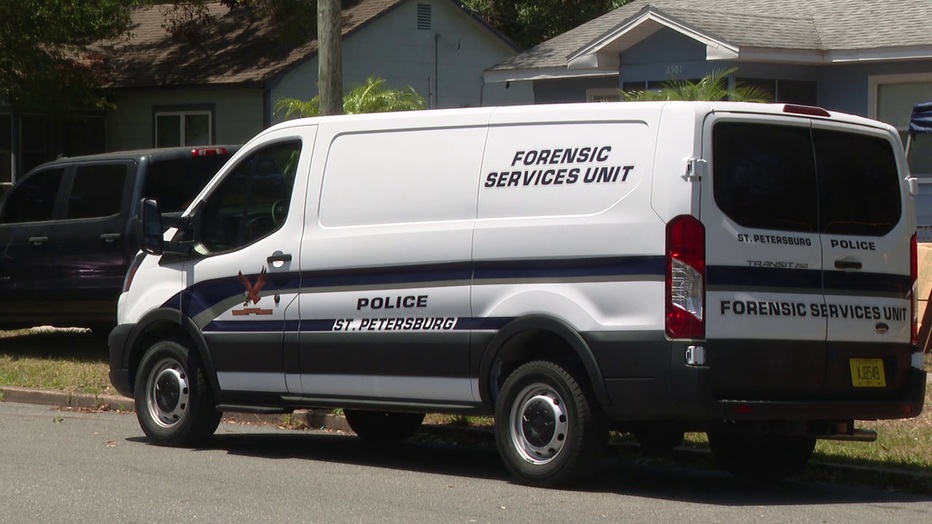 "It was huge. It was like a big win for the police department, because we put so many hours. You can't imagine watching over 100 hours-worth of video to try to pinpoint exactly when the tortoises were taken. And this is a big part of our community. Make no mistake. This is an icon in St. Augustine. So, to be able to recover those tortoises was huge for us, and that's just on the police department's side. This is family to them," Brown said.
"I have to thank our staff for suffering through all of this and still doing their jobs," Brueggen said. "You know, some of them had to answer questions about where they were on that day and what they were doing because there's discussion of an inside job and all that kind of thing."
"But thankfully, all that's resolved, and it's still quite fresh. I just found out about this tortoise being recovered last night at 6:00. So, we're all still learning details. We're all still going through this," Brueggen said.
PREVIOUS: Accused driver arrested in hit-and-run crash that killed St. Pete city employee, police say
Brueggen said the surviving tortoise will be quarantined for at least 90 days.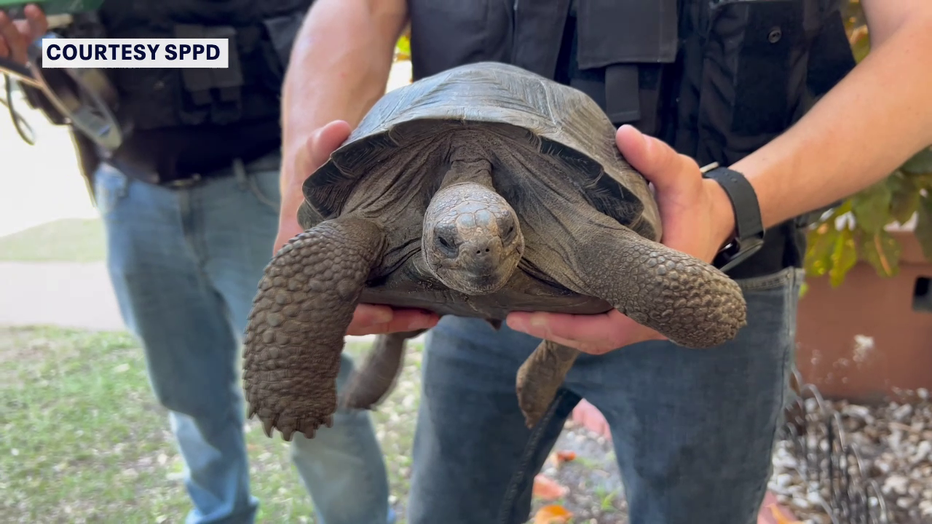 "We don't know where it has been or what it has been in contact with. So, it cannot be just reintroduced into our animal population, especially since one of these animals died. We don't know if that was a disease or what happened. So, we can't be introducing new parasites or new diseases to our collection," Brueggen said.
Thursday, vets with the University of Florida will check out the tortoise and take back the one that died to perform a necropsy to determine how it died. Brueggen said they're asking for the public's help naming the two. They were part of a group of six that didn't have individual names, just ID numbers. 
McCarty-Thomas was in court Wednesday on unrelated charges. Court documents say he stole thousands of dollars worth of rare books from stores across the area. He's also charged with burglarizing a bookstore and a home. McCarty-Thomas has an out-of-county warrant for burglary to a structure and grand theft in Marion County as well.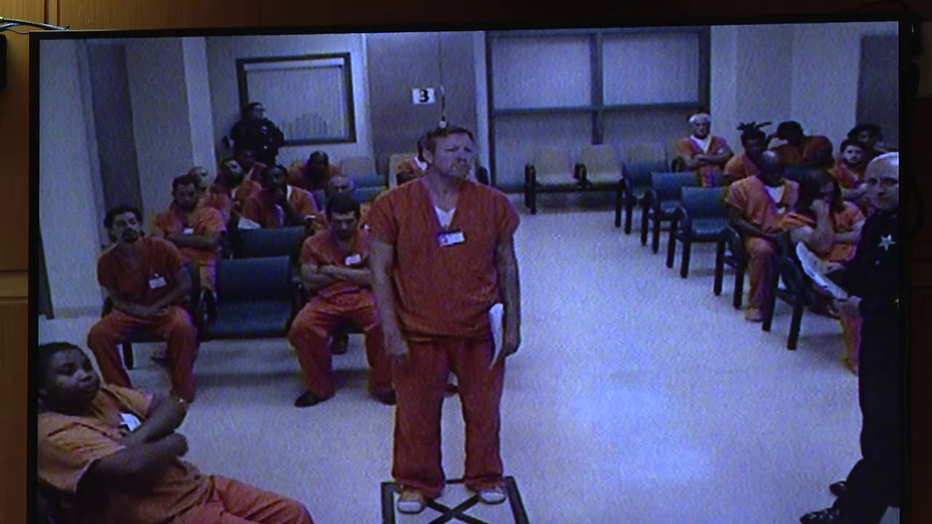 Joshua McCarty-Thomas during a court appearance in Pinellas County. 
One of the books, a 2023 Captain America comic book, was reported missing from Elkhart, Indiana, according to his arrest affidavit. It was traced back to McCarty-Thomas. 
WATCH: Driver stops on busy Florida highway for turtle crossing road, causes multi-vehicle crash
The judge revoked his bond on the burglary to a dwelling charge. That charge stems from Dec. 25, 2022. According to McCarty-Thomas' arrest affidavit, he and his codefendant, Michael Campbell, planned to and broke into the home of a couple in St. Pete while they were out of town. The document says they stole numerous items from the couple's home. 
The judge also appointed the public defender's office for McCarty-Thomas for all the local charges.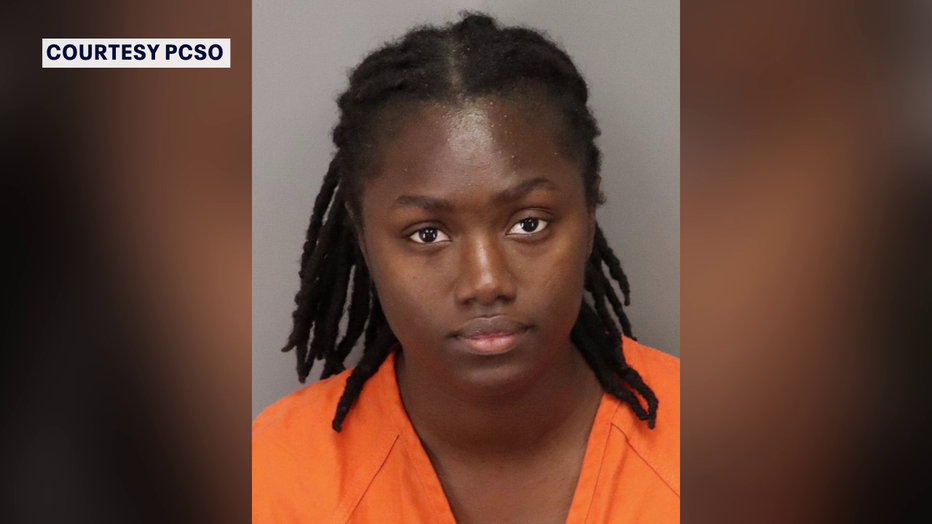 Booking photo for Dashae McCarty-Thomas. 
McCarty-Thomas' wife, Dashae McCarty-Thomas, was also in court Wednesday. She's charged with helping her husband sell the books on eBay. Specifically, she's charged with three counts of dealing with stolen property with $20,000 bonds for each charge. The judge also appointed the public defender's office for Dashae McCarty-Thomas.
She asked the judge if she could be released on her own recognizance, saying she has two children and a job as a corrections officer with the Florida Department of Corrections at a facility in Polk County.
MORE: Three killed in dump truck crash in Parrish played integral roles in the Strawberry Festival
"I would like to maintain my job. It took me a long [time] to get it," she told the judge.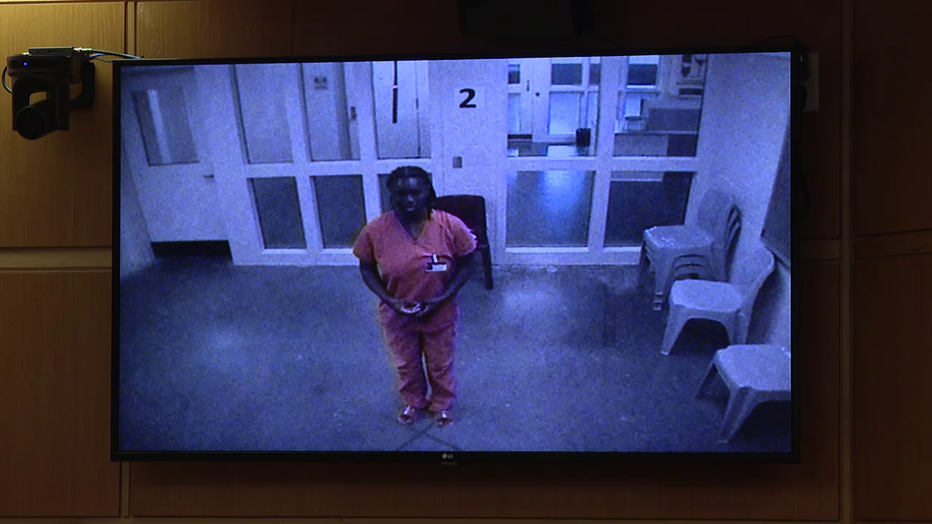 Dashae McCarty-Thomas during a court appearance in Pinellas County. 
The judge denied her request, and he also granted the State's request for a no contact order between the two. 
A spokesperson for the St. Pete Police Department said detectives will continue to search the couple's property through the night Wednesday, and said they could be there a couple of more days.
Joshua McCarty-Thomas is also facing charges in other cities across the state, police said, and they said more charges could be coming. Brown said Joshua McCarty-Thomas could be charged with stealing the tortoises as soon as Thursday.