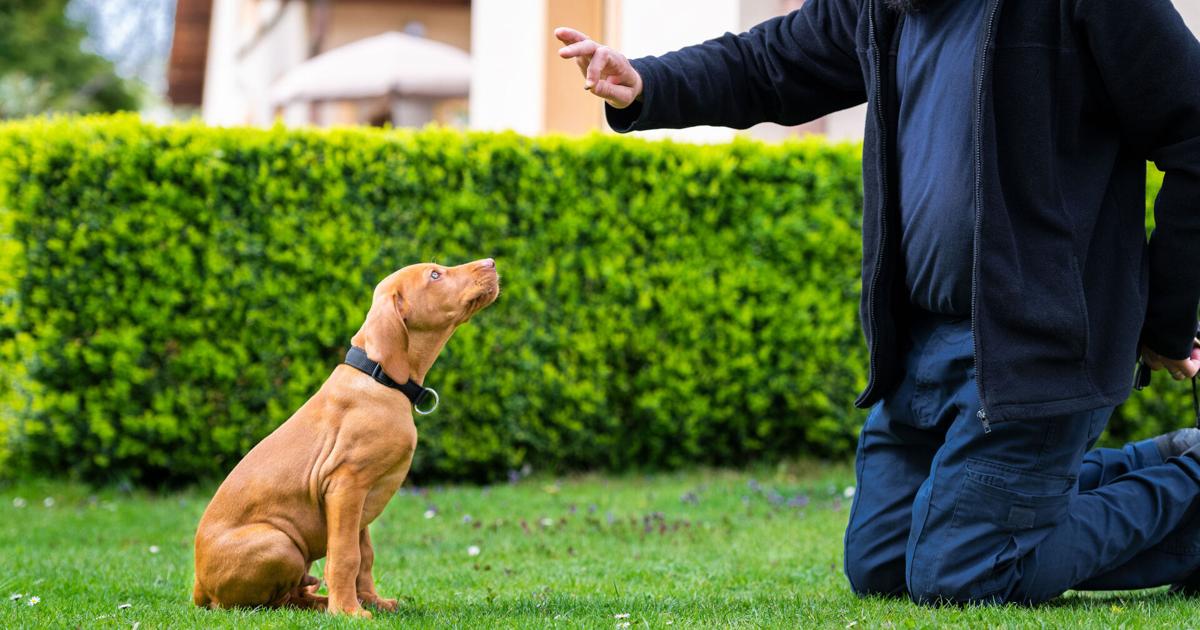 Pandemic Pets: How Retailers Are Helping with Training and Behavior Issues | Current Issue
As the post-pandemic world reopens, pet owners are heading back to the office or classroom. Furry family members, many having joined their families during the shutdowns, are expected to navigate yet another "new normal"—that of being home alone—and the need for training and behavior aids to cope with this lifestyle shift is increasingly apparent.
"We all know what happens to little boys when they are accidentally left behind, from the iconic comedy, 'Home Alone,'" said Kevin Dixon, founder and CEO of Clawguard, a manufacturer in Charlotte, N.C. "However, when the protagonist in a real-life story is not Macaulay Culkin, but rather a dog left home alone, the repercussions may be different, although equally expensive and painful."
Dr. Roger Mugford, CEO and founder of Company of Animals, a U.K.-based manufacturer with offices in Colorado and Australia, noted that during the pandemic, pets offered unrivalled companionship and helped to abate mental health issues formed during a unique and difficult time, but as pet owners head back to work, pets can become lonely and anxious.
As a result, pets are demonstrating a myriad of behavioral issues, industry insiders reported.
"While frequent walks and quality time are highly encouraged to keep pets active, we also encourage enrichment toys to stimulate senses and redirect anxious behavior," said Mandie Sweetnam, category manager for toys and behavior for PetSafe, a manufacturer in Knoxville, Tenn.
Toys such as PetSafe's Kibble Nibble, which can be filled with a pup's favorite treats, are helpful in relieving anxiety, she added.
"Before officially leaving a pet all day, fill up a toy and let them have fun with it while you take a short walk outside to check the mailbox," she suggested. "Continue this activity in short intervals so they associate leaving the house with positive events."
Heather Blum, co-owner of Petagogy, a retailer with locations in the Pittsburgh area, agreed.
"Separation anxiety is a tough one because the solution is a slow process," she said.
She suggested leaving pets for small periods of time with things such as a frozen treat-stuffed Kong toy or LickiMats inside a pet's crate.
"Enrichment toys and puzzles also help, along with exercise, so dogs are mentally and physically tired," she added.
Each pet is different, Sweetnam said, so when selecting a reward, deciding between food, toys or interactive play can be tricky. However, most pet owners will come to learn what approach is best for their pet.
Along with addressing separation anxiety, pet owners are also calling for tools that will develop manners and basic obedience.
"Pet owners want a well-behaved pet when taking walks or when friends and family come to visit at the house," said Kevin Lee, category manager for training at PetSafe. "They can accomplish basic obedience—sit, here, heel and down—through a variety of our remote trainers."
Angela Pantalone, owner of Wag Central, a retailer and pet services provider in Stratford, Conn., offers staples such as training treats.
"My favorite brand is Polkadog because they are basically a single ingredient," she said.
Wag Central offers training classes, and providing owners with assistance in selecting appropriate products and solutions is also central to addressing behavioral issues.
A 2019 study commissioned by Company of Animals regarding training and behavior found that 55 percent of dog owners reported that their dog pulled on the leash, according to Dr. Mugford.
At Petagogy, harnesses are a favored training solution to address the issue.
"Harnesses give the owner more leverage in a positive way," Blum said. "In terms of training, we are a force-free, non-adversive store and carry no prongs or shocks. We want everything to be positive reinforcement."
Long leads for recall training, clickers, training treats and enrichment activities are also in Petagogy's training product mix.
Nuisance barking is another issue pet owners are looking to address, according to Lee.
"While pet parents want to know if someone or something is going on outside the house, when it comes to nuisance barking, they are choosing to utilize solutions such as Petsafe's bark collars to deter the continuous barking issues," Lee said.
Cat & Dog Differences
Cats and dogs tend to have different behavioral issues, and retailers should be ready with products and knowledge to help owners of both species.
For instance, scratching is a primeval compulsion for cats and often an issue for their owners, Dixon noted.
"Understanding 'the call to scratch' and using scratch-protection products can greatly alleviate this problem," he said.
Unlike cats, dogs have a natural desire to feel secure in their surroundings and will attempt to alleviate anxiety and boredom by scratching at walls, doors and floors, digging, biting or chewing, according to Dixon.
"This can occur when dogs grow overly reliant on their owner and are unable to cope with being left alone for a period of time," Dixon added. "It's important for pet parents to understand that unwanted pet behavior can be 'treated' with home protection products, coupled with positive reinforcement training."
New Products
Innovations in Training
From remote-controlled treat dispensers to no-pull solutions and anti-scratch barriers, manufacturers are helping retailers solve pet owners' training and behavior issues with a range of new products.
The increase in pet owners working from home during the pandemic translated to more opportunities to train and treat dogs throughout the day, according to Dr. Roger Mugford, CEO and founder of Company of Animals, a U.K.-based manufacturer with offices in Colorado and Australia.
To further the dog-owner bond and better support the growing number of dog owners whose pets are not food oriented, Company of Animals is launching Coachi, a brand dedicated to positive reinforcement training through play and reward toys.
This interactive new collection focuses on nurturing confident, happy dogs of all ages, Dr. Mugford said. The consumer-friendly range of training tools includes whistles, training lines, toilet training bells, clickers, and fetch-and-reward pouches.
Manufacturers continue to innovate in the treat-based training category as well.
PetSafe's new Teach and Treat, a remote-controlled treat dispenser, allows pet owners to reward a dog instantly from up to 30 feet away.
"Reward-based training allows for fast, focused lessons that can be customized for unique training needs," said Kevin Lee, category manager for training for the Knoxville, Tenn.-based company.
Additionally, PetSafe plans to release its Soft Point training collar in November. The collar is a no-pull solution that is an alternative to prong collars, using rubber points to apply gentle pressure to deter pulling, said Mandie Sweetnam, category manager for toys and behavior.
Clawguard has announced several updates in the training and behavior space.
"To address the root cause of a pet's behaviors, we always recommend pairing Clawguard products with positive reinforcement training," said Kevin Dixon, founder and CEO of the Charlotte, N.C.-based company. "Our new partner, Free Will Animal Training, does just that."
Based in Charlotte, N.C., Free Will Animal Training offers remote or in-person training. Information can be found on the Clawguard website or at freewillanimaltraining.com.
Released in spring 2022, Clawguard's Window Sill Protectors are clear, high-quality, anti-scratch claw and slobber barriers for homes or any interior that embraces pets. The products offer protection from scratching, clawing and chewing damage caused by dogs of all sizes, cats, birds and other pets.
"The crystal clear high tech plastic we use is designed to match any décor," Dixon said. "By creating a durable barrier, window sills are protected."
Clawguard's new Anti-Scratch Cat Training Tape XL Sheets and Custom Strips are clear, double-sided adhesive film barriers engineered to train and deter cats from scratching, clawing and jumping on furniture, couches, drapes, screens, counters and more.
"Simply install the Training Tape to the desired surface to create a durable barrier with anti-scratch properties to protect common scratching places," Dixon said. 
The product is easily removed, leaving no residue.
Consumer Education
Navigating a Range of Tools
The breadth of the training and behavior category makes it imperative for pet supply retailers to know their products and be ready to help guide shoppers to the solutions that could work for their particular pet and situation.
Retailers can help pet owners to zero in on specific training goals.
"There are so many tools to choose from when deciding on behavior modifications for a pet," said Mandie Sweetnam, category manager for toys and behavior at PetSafe, a manufacturer in Knoxville, Tenn. "Focusing on specific goals, like loose-leash walking, is an important first step for pet parents."
Manufacturers agreed that providing extra support—for instance, with sizing guides, instructional videos, articles, blogs, behavior solutions, answers to frequently asked questions and knowledgeable staff—will help retailers set pet owners up for success when it comes to choosing the proper tools for their training and behavior needs.
Angela Pantalone, owner of Wag Central, a retailer and pet service provider in Stratford, Conn., noted that research is central to assisting customers in finding solutions to training issues.
"When it comes to the manufacturers, I do my research," she said. "I'll go to trade shows during the year to make contacts. I know if I have a question or want to order something, I can reach out to that person directly."
As a result, when a pet owner comes to Wag Central with a specific problem, Pantalone is able to steer that client to the right product.
"I am honest if it's something that I don't carry but they might want to try," she added.
Heather Blum, co-owner of Petagogy, a retailer with locations in the Pittsburgh area, noted that conversation with pet owners is another component to training success.
"We just ask a lot of questions. We want to know what they have tried, and we have trainers to recommend," Blum said. "A lot of it depends on the specific need, but it also comes down to energy, boredom, mental stimulation and exercising needs."
Recommendations are also based on personal experience, Blum continued, "for instance, our own usage expertise, or what our training partners might recommend."
Understanding and being considerate of each pet owner's situation is essential to providing useful and meaningful guidance, said Kevin Dixon, founder and CEO of Clawguard, a manufacturer in Charlotte, N.C.  
"In this category especially, it's helpful for the retailer to understand what the pet parent is going through and to use compassion when suggesting solutions," Dixon said.
Merchandising & Marketing
It's in the Presentation
On the sales floor, placing a spotlight on pet training products can help guide consumers in their training journey.
At Huck and Harlowe, a retailer with locations in Rosemary Beach and Seaside, Fla., training treats are displayed on a pedestal near the sales register.
"We have three different types of training treats: chicken, duck and salmon," said Mason Blackwell, co-owner and co-founder. "We tell customers these treats are good for house training their puppy."
Huck and Harlowe also stocks training door bells, which are displayed hanging on a hook.
"A puppy or dog can be taught to hit its nose on the bells to go out," Blackwell said.
Retailers agreed that social media plays a central role in marketing.
"Every day, our Instagram stories showcase products, with a connection to our Instagram store where customers can purchase products," said Angela Pantalone, owner of Wag Central, a retailer and pet service provider in Stratford, Conn.
At Petagogy, a retailer with locations in the Pittsburgh area, highlighting a refreshed assortment of puzzles and enrichment toys garners pet owner interest. However, co-owner Heather Blum emphasized face-to-face communication as the best marketing approach when assisting pet owners in training product selection.
"We have conversations with our customers and show them items that might solve a particular issue," she said.
---
Trade Talk
Joe McIver, director of brand marketing at Whitebridge Pet Brands in St. Louis
What are the top issues pet owners are looking to address as it relates to training and behavior, and how can aids such as training treats help?
With dogs being treated as part of the family and included in more activities, owners have become attuned to the benefits of having a well-behaved pet and are seeking out successful training methods. Studies have shown that positive-reinforcement training using treats and rewards is much more effective in motivating dogs to learn commands and behaviors than punishment-based techniques like training collars. That is why many organizations that train service dogs, including the U.S. military, have adopted the positive approach.
Using the right reward treats as incentives is the key to successful positive-reinforcement training. The treats must have an irresistible taste and aroma to capture the dog's attention and motivate her to learn. They must also be low in calories since training requires repetitive rewarding. Retailers should stock a broad assortment of training treats across diverse formats, flavor options and price points to attract different types of dogs and pet parents.
At Whitebridge, we offer one of the largest portfolios of training treats, with three major USA-made brands—Tricky Trainers, Pet Botanics and Crazy Dog. Tricky Trainers, our premium brand, is made with wholesome natural ingredients and includes Crunchy, Soft & Chewy treats and a new Freeze-Dried format.
Pet Botanics is a mid-premium brand with botanical inclusions that has long been popular with professional trainers. It is available in a 3-calorie or a Mini 1.5-calorie size for smaller dogs, and offers a wide choice of meaty flavors (Chicken, Bacon, Beef, Duck) and formats (Soft & Chewy, Jerky Bites and Freeze-Dried). Crazy Dog puts fun into training, with colorful consumer-attracting packaging featuring cartoon dogs. But inside, these bite-sized treats are seriously effective training tools, available in two sizes and four flavors.