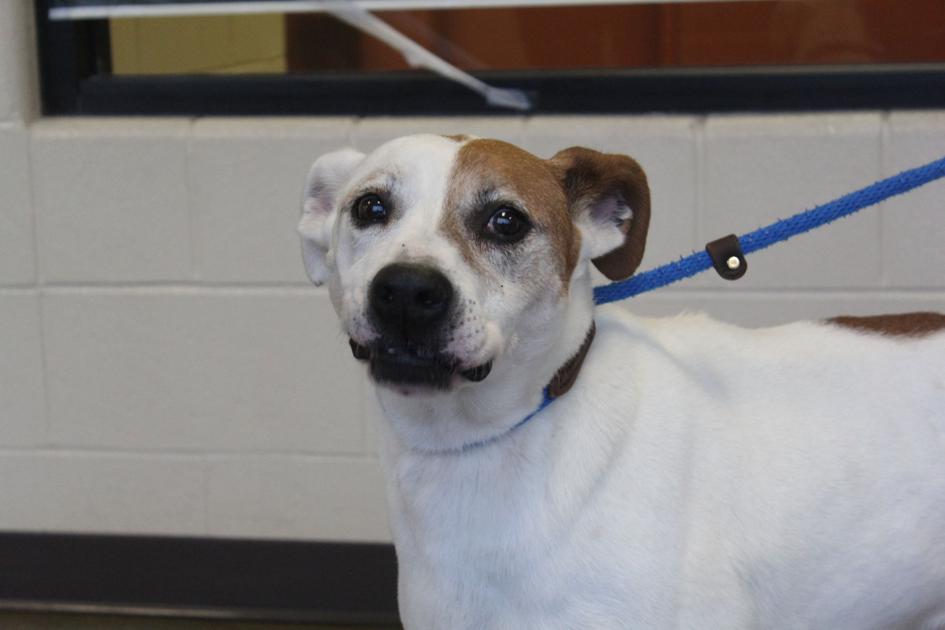 October is Adopt a Shelter Dog Month | Local News
In an effort to help animals waiting in shelters to get loving forever homes, the American Humane Association in 1981 announced its observance of October as National Adopt a Shelter Dog Month.
At the Hardin County Animal Shelter, as of Wednesday, they had 58 dogs total with 23 ready to be adopted.
"There are so many great dogs that come through. We get a variety. These are all dogs that need homes and love and they're here for different reasons. … They are all wonderful dogs," said Maranda Dawson with Hardin County Animal Care and Control.
Dawson said often people think that the animal has done something wrong to be at the shelter.
"That is not true," she said, noting some pets are simply at the shelter because their owners had to relocate and couldn't take their pet with them. "A lot of people think the shelter dogs here are 'damaged goods,' they're not. … We get some of the sweetest, friendliest dogs."
Dawson said one of the great things about adopting from the shelter is that the animals have been seen by a veterinarian. They all are spayed or neutered and vaccinated. She noted all the dogs are microchipped as well.
As part of Adopt a Shelter Dog Month, the shelter each year hosts an "Adopt Your Boo Special." This year it will be Oct. 25-30. During this time, all pet adoptions will be $31. Typically, dogs are around $90 and cats are around $60 to adopt.
For dogs, the adoption fee includes the distemper parvo vaccination, deworming, spay/neuter, rabies vaccination, microchip, kennel cough vaccination, and a Hardin County license.
For cats, the fee includes feline distemper vaccination, deworming, spay/neuter, and rabies vaccination.
If someone is looking to adopt, Dawson recommended they check frequently with the shelter.
"It changes almost daily for the dogs we have up for adoption," she said. "Anytime one is adopted out, we have another one to take its spot. Just because we don't have what you are looking for today does not mean we won't have the perfect dog for you tomorrow."
To view the shelter's adoptable dogs, visit petfinder.com. One of the current adoptable dogs is Dottie, a 7-year-old pit bull mix.
Those looking for a way to assist the animal shelter can do so by volunteering or by making donations. Dawson said they always can use cleaning supplies, dog and cat food and more. When they are looking for certain items, she said they'll reach out to the community through their Facebook page or other avenues.
Some of the items on their wish list include paper towels, laundry detergent, scoopable litter, amazon gift cards, doggy poo bags, and small plastic cat carriers. When selecting pet foods, the shelter asks for foods with no red dyes.
In celebration of Adopt a Shelter Dog Month, recently the Friends of Hardin County Animal Shelter was the recipient of a donation from the Schaffrick Charitable Foundation. Representatives from both groups and Hardin County Animal Care and Control gathered this week for the official check presentation of $18,000.
"When the shelter has expenses outside of their budget, FOHCAS helps with financial support," board chair Jo Ellen Thomas said in a news release. "Our fundraising efforts help to support the community cat program, the medical fund, low cost spay/neutering and the shelter's full-time vet. This kind of generous donation makes our work possible."
FOHCAS is a nonprofit that supports the work of Hardin County Animal Care and Control through fundraising and community education and outreach.
For more information about adoptions or ways to assist the shelter, call 270-769-3428. The shelter, located at 220 Peterson Drive in Elizabethtown, is open from noon to 4 p.m. Monday through Saturday.
Mary Alford can be reached at 270-505-1417 or [email protected]
https://www.thenewsenterprise.com/news/local/october-is-adopt-a-shelter-dog-month/article_cf7dc99f-62b6-5600-bb72-826004674735.html