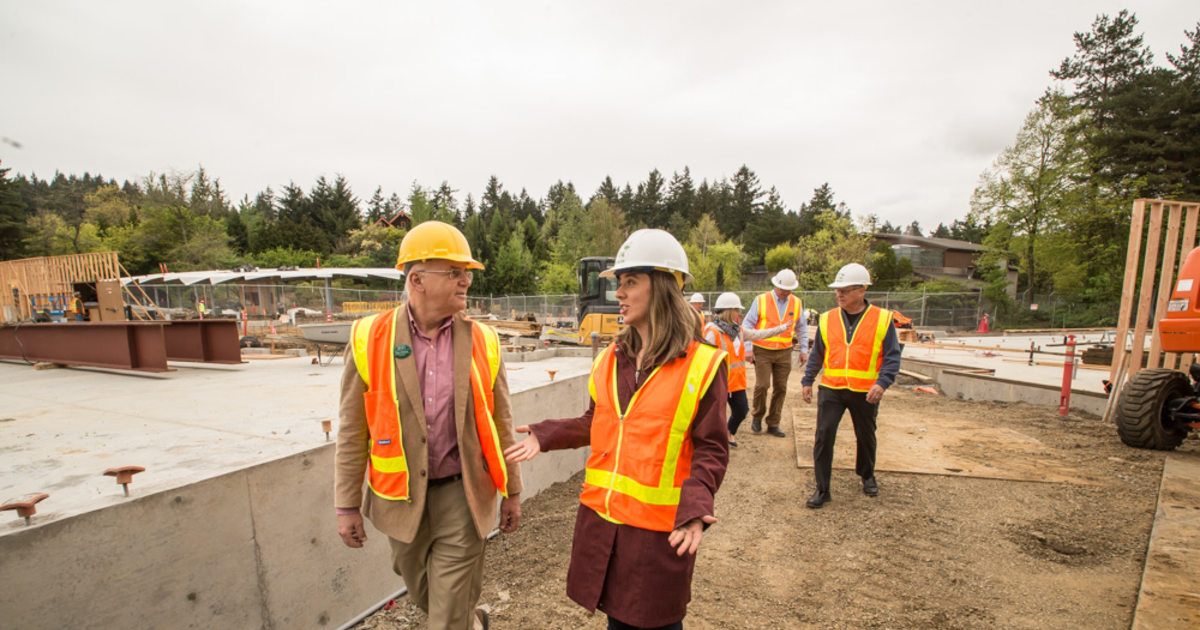 New zoo director champions wildlife, sustainability
The most popular ticketed attraction in the state has a new leader. Heidi Rahn, a lifelong wildlife advocate with a focus on sustainability, has been named the Oregon Zoo's next director, Metro officials announced today.

"I'm honored to be working with such a dedicated, passionate group of staff, volunteers and zoo supporters," Rahn said. "Like most places, the Oregon Zoo has weathered some tough times these past couple of years, but the resilience and innovation I've seen here have been inspiring."
Rahn previously worked at the zoo from 2013 to 2018, directing implementation of Metro's $125 million zoo bond program and earning national acclaim for projects prioritizing animal welfare, conservation education and sustainable infrastructure. Under her leadership, the zoo opened some of its most iconic areas, including Condors of the Columbia, Elephant Lands and the Education Center. The latter two projects both earned awards for excellence in innovation and exhibit design from the Association of Zoos and Aquariums.
The new director attributes her sustainability focus to a lifelong conservation ethic. She is passionate about creating a better future for wildlife, and feels a special connection to the zoo's work on behalf of endangered sea otters and butterflies.
"My first internship was at the Center for Marine Conservation in San Francisco, analyzing policy to support sea otter conservation," she said. "And I met my husband when we were working to protect habitat for the endangered Karner blue butterfly in Wisconsin."
Rahn, who has been serving as interim director since Aug. 1, becomes the Oregon Zoo's first permanent director since the departure of Don Moore, who retired last year after a 45-year career in animal-welfare science and wildlife conservation. Her previous tenure at the zoo overlapped with Moore's, and officials say she brings both a wealth of experience and a welcome sense of continuity to her new role.
"Heidi is an ideal fit for Oregon Zoo director," said Marissa Madrigal, Metro's chief operating officer. "Her previous experience at the zoo, her passion for conservation, and her expertise in sustainable operations are just what we need as we rebuild from the losses caused by the COVID-19 pandemic."
Rahn holds a bachelor's degree in zoology and conservation biology from the University of Wisconsin and a master's degree in business administration and sustainable operations from York University in Toronto. She received the Daily Journal of Commerce Women of Vision award in 2017 for efforts to promote opportunities for women and people of color in construction.
The Oregon Zoo is one of the most popular destinations in the Northwest and one of the most highly respected zoos in the country. In 1974, it became just the second zoo to earn accreditation from the Association of Zoos and Aquariums, an honor it has maintained for more than 45 years. Since 2012, it has been recognized with 12 of the association's major annual awards: six for conservation work on behalf of endangered species, two for excellence and innovation in exhibit design, one for environmental efforts in the zoo's day-to-day operations, one for achievement in diversity, and two for marketing excellence. 
As part of the Metro family, the Oregon Zoo helps make greater Portland a great place to call home. Committed to conservation, the zoo is working to save endangered California condors, western pond turtles, Oregon silverspot and Taylor's checkerspot butterflies, and northern leopard frogs. To learn more, visit oregonzoo.org/recovery.
Support from the Oregon Zoo Foundation enhances and expands the zoo's efforts in conservation, education and animal welfare. Members, donors and corporate and foundation partners help the zoo make a difference across the region and around the world. To contribute, go to oregonzoo.org/donate. 
The zoo is open from 9 a.m. to 5 p.m. Monday through Friday, and 9 a.m. to 5:30 p.m. weekends. To plan your trip, go to oregonzoo.org/visit. For more information on getting to the zoo, visit Explore Washington Park.
https://www.oregonmetro.gov/news/new-zoo-director-champions-wildlife-sustainability