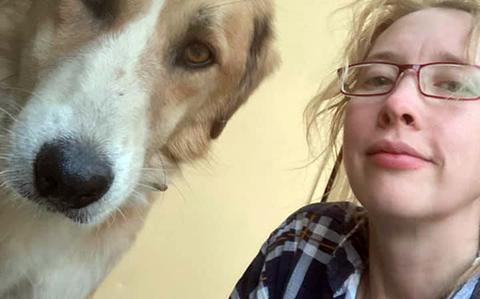 American rescue clinic founder stays in Afghanistan to pursue evacuation for staff and animals left behind
Charlotte Maxwell-Jones poses with a rescue dog at Kabul's airport on Aug. 29, 2021. (Facebook/Charlotte Maxwell-Jones)
An American who founded an animal rescue clinic in Kabul is still in Afghanistan, trying to persuade the Taliban to let her retrieve animals released by the U.S. military and airlift them out of the country with the clinic's employees.
Charlotte Maxwell-Jones was unable to board a military evacuation flight with the animals or charter a private aircraft before international troops left earlier this week.
The U.S. military released the clinic's animals from their cages in an enclosed area at the Kabul airport that had previously been used by the former Afghan army, Maxwell-Jones and a Pentagon statement said.
Maxwell-Jones founded Kabul Small Animal Rescue in 2018 to rescue strays, provide veterinary services and help ship animals abroad for adoption. American service members who befriended animals during their deployments and wanted to bring them home have been among her most steady clientele.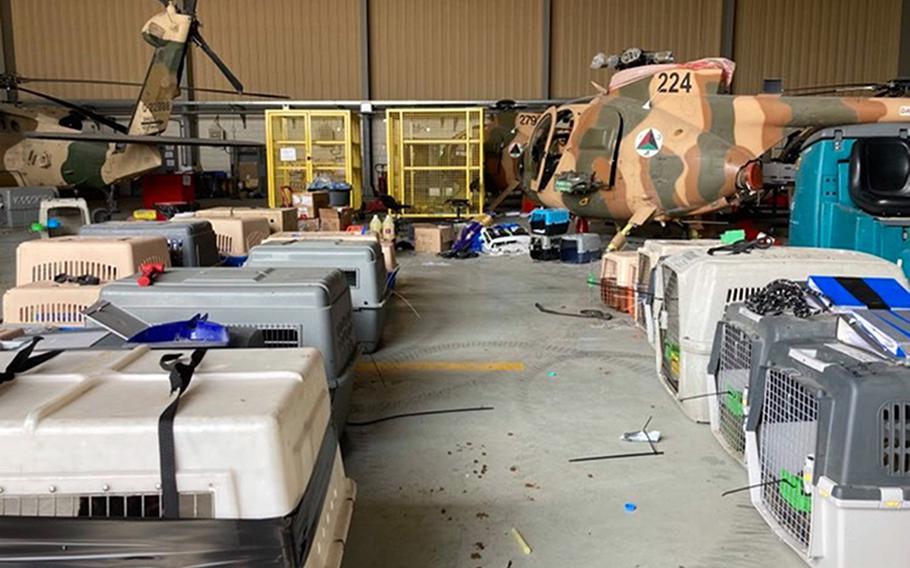 Cages holding dogs belonging to Kabul Small Animal Rescue sit at Kabul's airport last week. The dogs were unable to travel outside of Afghanistan and were instead released at the airport by the U.S. military. (Facebook/ Kabul Small Animal Rescue)
The Tennessee native has vowed to stay until she secures the evacuation of her staff, their family members and up to 250 cats and dogs. Maxwell-Jones said she has had eight charter planes canceled in recent days, costing her a substantial amount of money in nonrefundable deposits.
The entire group arrived at the airport together last week, but Taliban guards initially allowed only Maxwell-Jones and the dogs to enter. The employees were told to wait with the cats, she said.
In the end, only nine of the over 125 people associated with the clinic made it through the gates and left Afghanistan, she said. The cats returned to the clinic with staff members.
"Despite an ongoing complicated and retrograde mission, U.S. forces went to great lengths to assist the Kabul Small Animal Rescue as much as possible," Army Lt. Col. Karen Roxberry, a spokeswoman for U.S. Central Command said in a statement Tuesday.
But Maxwell-Jones said the military provided a lot of "unnecessary pushback" once she was inside the airport.
"All the service members on the ground were very nice," she said. "They helped take care of the animals; they took them out; they cuddled them. They were really, really great.
"But some of the higher-ups were like: 'You're using our resources. We need to get people out. Do you care about animals more than people?' I didn't ask to move animals instead of people. I said let's move them in addition."
The animals likely would have ridden in cargo spaces, she said.
Photos of some 125 dogs in carrier cages that Maxwell-Jones has been trying to ship out of Afghanistan have been circulating on social media along with accusations that American forces left their working dogs behind when they completed their withdrawal this week.
Pentagon spokesman John Kirby denied the accusations Tuesday, tweeting that the military left none of its dogs and that those photographed belonged to Kabul Small Animal Rescue.
The fate of the animals, about 50 of which Maxwell-Jones described as working dogs left in her care by contractors who supported the U.S. mission, remains unknown.
"There's a decent chance that most of them are alive," she said Tuesday in a phone interview, adding that she intends to work with the Taliban, who now control the airport, to retrieve the animals. 
She remains hopeful of getting both animals and staffers out of Afghanistan in the coming weeks. 
And while the employees wait to depart, they will continue to work, with an extra emphasis on rescuing more contractor working dogs that are believed to have been left behind, Maxwell-Jones said.
Correction

Charlotte Maxwell-Jones said the roughly 50 working dogs from contractors that she was trying to evacuate had been left in her care.

https://www.stripes.com/theaters/middle_east/2021-09-01/animal-rescue-clinic-founder-stays-in-afghanistan-to-pursue-evacuation-2739310.html