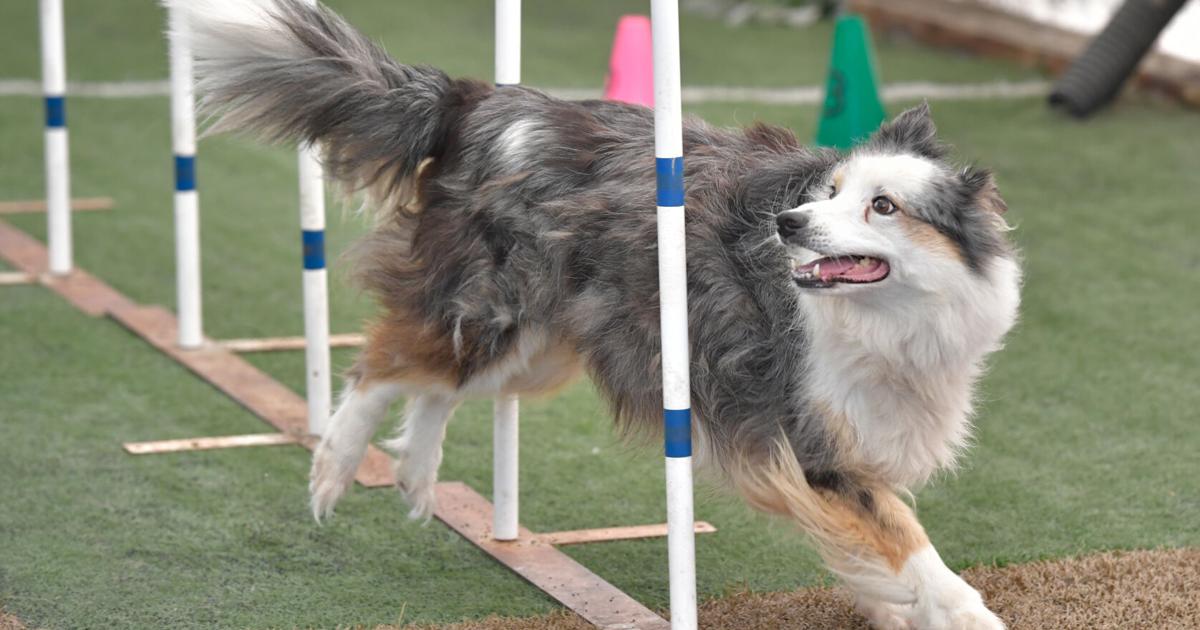 Agility training is beneficial for pets, not just show dogs; here's where you can train your dog in Lancaster County | Entertainment
Eyes ablaze with focus, the black-and-white dog heeds the start cue from her handler. She makes a jump, sprints up an A-frame, darts into a tunnel, shimmies through the weaves like a slalom skier, bolts up — and down — a teeter-totter, makes a couple more graceful jumps and lands in front of her handler, where she is lavished with praise and a treat.
Meet Kiki, a working English cocker spaniel. She is one of the 12-dog pack belonging to Rocky Creek Dog Agility owners Kim and Mark Malmer. Kim is a former math and chemistry teacher; in 2006, she and her husband bought a 4.5-acre farmette in Ephrata to start the agility adventure.
"It's a dream job," Malmer says.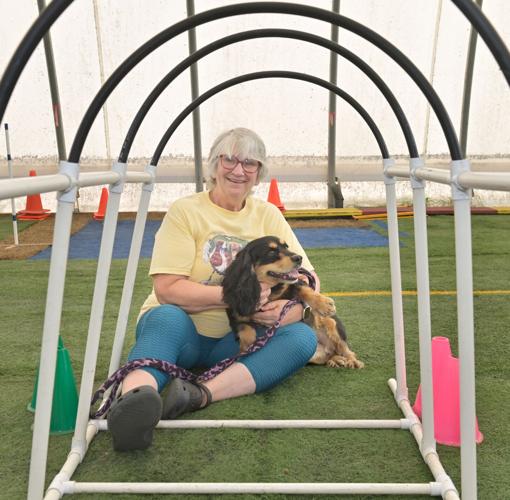 While Malmer is partial to English cocker spaniels, she says that any dog breed can do agility.
"It gives the dog a job and they love it," she says. "All dogs were bred to do something."
Canines can be trained for herding or hunting; others become service dogs or police dogs. Some are trained to aid in search-and-rescue missions; others learn how to help their owners hunting. But dogs whose primary purpose is just being a pet can also benefit from having a job to do.
It boosts confidence in the pooch, creates a stronger bond between animal and handler, fights off boredom and releases pent-up energy — which the American Kennel Club says can prevent behavioral issues.
Agility lessons are a form of giving dogs a job — and it's not a breed-specific sport, says Coleen Mrakovich, owner of Canine Companions Sports Center in Bainbridge.
"I've worked with all different types, sizes and breeds of dogs," she says. "My current class lists have 22 different breeds coming to weekly classes."
After 27 years in the business, Mrakovich still finds agility fun for both humans and their canine companions.
"It's good for our relationship with our dogs — and it's a great time to meet people that develop into lifelong friendships," she says.
Emily Ipsen and her 2-year-old golden retriever Summer have been doing agility and scent work classes at Rocky Creek for about a year and a half. She says the training carries over at home and out in the community.
"Summer is used to following my directions in the ring, so she looks to me for positive leadership in other environments as well," Ipsen says. "We continue to build a strong, loving bond."
You don't need a purebred show dog to benefit from agility and scent work. And you don't need to travel to a big city to do it, as there are several professional dog trainers around Lancaster County.
Obedience training builds a solid foundation for agility and scent work. According to Dog Sense, a pet boarding service located in Lancaster, obedience training provides a clearer understanding of communication between dog and handler, enhances the bond between the two and provides mental and physical stimulation for the team. A focused dog will be more prepared to moving into "sport classes" like agility and scent work.
Music to my ears
Malmer got her first English cocker spaniel named Ariana — all her dogs are named for musicians — from England six years ago, investing about $7,000 in shipping the pooch and the required quarantine. She drove to Georgia for Kiki, then Nebraska for Indi, and back to Georgia for Tina. She also has dogs named Brittany, Bruno, Taylor and Billie, among others.
"They are hunting dogs, used to flush out and retrieve quail," Malmer says. Those skills translate well to the agility course. "They tend to have a lot of drive, energy and most are into speed, making agility fun."
Julia Cavanaugh drives over an hour from Whiteford, Maryland, for a weekly agility class with her two rescue dogs Bayley and Willie.
"As soon as I saw Bayley fetch a toy, I thought she'd be a great dog to work with," on the agility course. She says that Rocky Creek is more affordable than classes in Maryland.
A session consisting of five classes costs $75 at Rocky Creek. It's competing at trials that can get pricey, says Malmer.
"It's $15 to $17 per run, and it's highly addictive," Malmer says.
But, she says, it's good to show off what you've learned with your dog — and see what you need to work on. Malmer says that most of her students don't do trials, and just enjoy the weekly mental and physical exercise at her training facility.
Canine trials are commonplace in Pennsylvania. Malmer says people can do trials nearly every weekend within two hours of Lancaster.
"Trials are typically held indoors in a barn, soccer arena or a large warehouse-type space converted to an agility training center," Malmer says. They may also be held outdoors in a fenced 100-by-100-foot area.
---
More News to Dog-ear for Later:
---
The course, of course
Bayley is "play-motivated," so Cavanaugh rewards her with a tussle with a crinkle toy instead of a treat. "She's a master in barn hunt too," she adds, which entails finding rats in tubes.
The Rocky Creek Dog Agility course is in a large tentlike structure containing over a dozen obstacles like tunnels, adjustable jumps and an A-frame. There are out-of-view kennels for the dogs to wait in until it's their turn; memorial banners representing Malmer's past dogs flutter from the walls.
Beth Weidman, trial secretary assistant and student, explains that all the instructors design their own variable courses for students to follow, which teams must complete in a timely manner. The variability ensures the dog and the handler are not doing it by rote.
Weidman says that prior to a trial, participants cannot be given the course too early or die-hards could build it and practice it verbatim. It is supposed to be a "novel course," she says. Things like back jumps and tricky entrances make courses more difficult.
"Handlers get a map of the course and get five minutes to walk it without their dog" in advance of a trial, Weidman says. Events calculate times, faults — like running past a tunnel or knocking down a jump pole — and total points to mete out ribbons.
On the move
At Rocky Creek, the instructor shows the handler the course, which they must direct their dog follow, zigzags and all. While there's a fair amount of arm signaling and verbal commands during a run — the handler is also running — what is critical for the dog is seeing its owner's foot position pointing toward the next obstacle.
Malmer has a white board listing seven "Handling Cues" posted on the wall in her agility ring. Arms and verbal cues are at the bottom; motion and foot position are at the top. She says that for people to get better handling skills, she tells them to "put their hands in their pockets and shut up," then do the course. It quickly becomes clear what the dogs are actually cuing off of — the handler's feet position and where they are running.
"When the dog finally gets the weaves and the teeter-totter, it makes people really excited," Weidman says. "But those usually take the longest to learn."
Donna Roberts travels from Muhlenberg with her rescue pups Pebbles and Freckles — both as cute as their names. They are 6 and 8 years old, respectively, low to the ground and eager to please. Roberts has been coming to Rocky Creek on and off for about 10 years. She likes that Malmer is willing to work with kids — she brought her granddaughter to train her pug at Rocky Creek a couple years ago.
"Agility is fun and you get to meet new people," she says. "It's good socialization for people and the dogs."
Freckles hits the course, but is clearly not motivated. No amount of verbal commands or arm waving gets her to speed up; she saunters through the course, tail waving like a surrender flag.
"She had better be better tomorrow at trial," says Roberts.
"She would have timed out, though she did it correctly," Weidman adds. "Little dogs can be stinkers."
Smell that?
Another passion of Malmer's is scent work. While it may be uncommon to train pet dogs in scent detection, it is well within their wheelhouse. According to VCA Animal Hospitals, dogs have more than 100 million sensory receptor sites in the nasal cavity compared to 6 million receptors in humans. Furthermore, the area of the canine brain devoted to analyzing odors is about 40 times larger than the comparable area in the human brain.
Ideally, Malmer likes to start scent training while her pups' eyes are closed. She places a magnetized container with a scent like birch or anise on the back of the crate while they're nursing. Later, she adds a scent in a colander, and when the pup noses the odor, she gives them soft kibble.
She says sometimes dogs — and people — can "age out of agility," as it is pretty high energy, and scent work is a good way to keep challenging the dog. While the transition age depends on the breed and individual dog — Malmer says her dog was doing agility up to age 13. (Many organizations consider a dog aged 6 or 7 a veteran.)
Not every dog is keen on scent work, though. Roberts says that Freckles found the scent once and didn't want to do it again — she prefers agility. But for the dogs who like to follow their nose, there are plenty of challenges at Rocky Creek to conquer.
Some dogs do "handler discrimination" where they detect a sock or glove in a box belonging to their owner. Malmer says the dogs can work interiors, exteriors and vehicles. She does not train for drug detection or cadaver searches as she (understandably) cannot get "samples" of those items to test the dogs.
Malmer bought six cars that no longer run for the property, which are used to stash scents in a magnetized holder. She also uses "cold boxes" lined up, with two of them "hot boxes" containing a scent, which is a dab of essential oil on a Q-Tip. The dog has a special harness — not a collar — so they can pull against it when seeking the scent. When the dog finds the scent, it alerts by sitting, lying down or placing a paw or its nose on it.
"A big part of the game is to tell us they found it," Malmer says.
Ariana runs the dozen boxes, snuffling each one excitedly, then "alerting" by sitting down at the box with the scent. She finds both of them.
Malmer says that if the dog is working a room and there is no scent, you still need to reward the dog for the search, so they don't false alert start "making stuff up" where there is no scent.
While bloodhounds may be the most popular breed for scent work, any dog can do it.
"We've had blind, deaf and handicapped dogs that work really hard and do well," Weidman says.
Whether it's in preparation for trial competition or just for fun, agility and scent work are great mental and physical exercise for a canine pair.
Just remember that, as Kim says: the dogs are only as good as the handler.