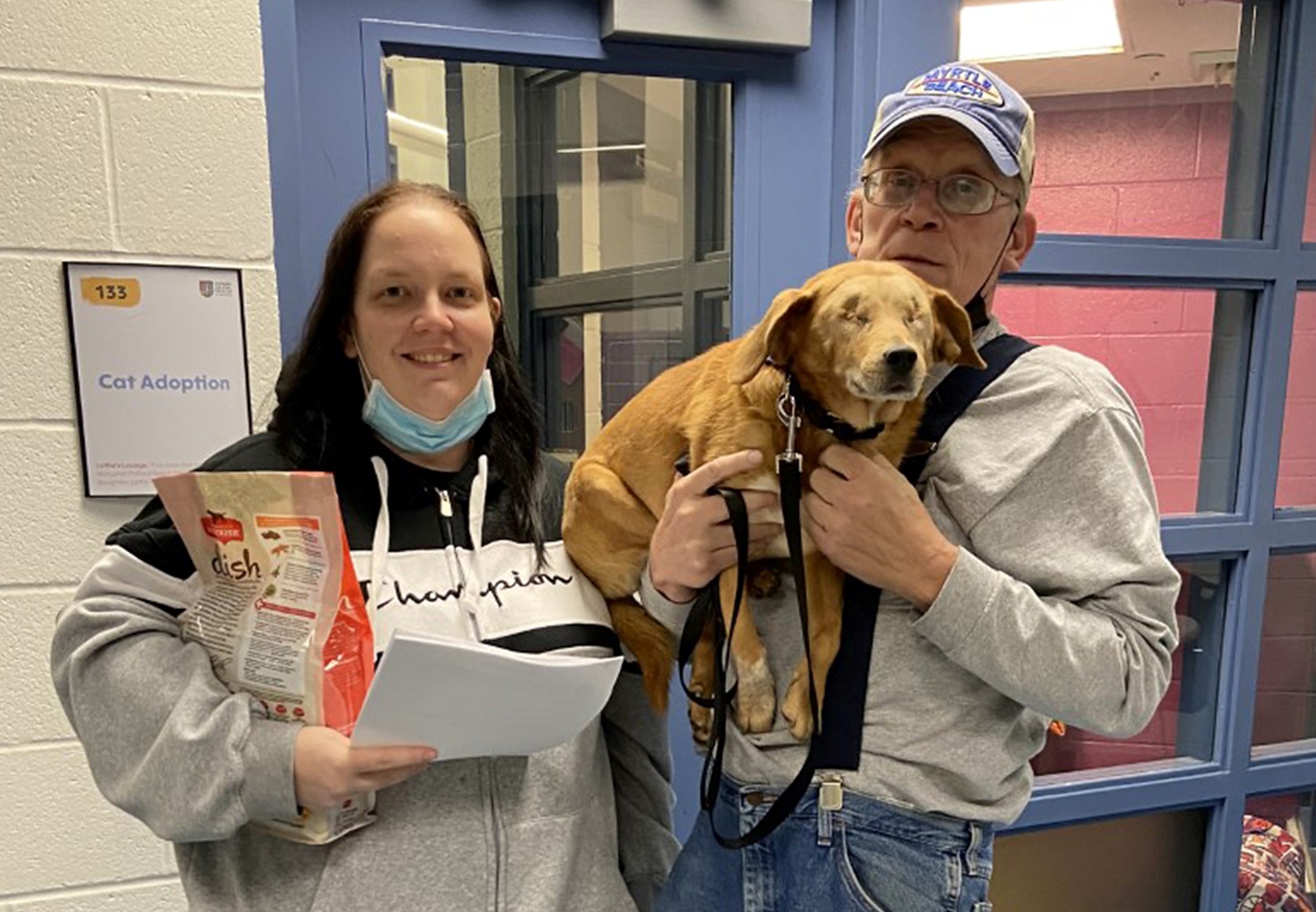 11 Pet Adoption Stories That Will Melt Your Heart
Cats and dogs have been melting our hearts all year long with adorable rescue and adoption stories seeing the lives of our four-legged friends turned around.
In the U.S, it's estimated that there are around 48 million homeless cats and dogs, with 5.4 million of them in shelters and the rest being street or stray animals, according to the End Pet Homelessness website.
Senior Dog Who Had Both Eyes Removed Finds Forever Family
Nine-year-old beagle Rusty was left needing both eyes removed after his eyes began to painfully bulge from Posterior Lens Luxation. After a double enucleation surgery in October, Rusty was left with no eyeballs and his lids stitched up.
Being both blind and elderly, there was concern at the Humane Animal Rescue of Pittsburgh, in Pennsylvania, as to whether he would have any luck finding a new home. Rusty hadn't managed to find a new family while at his previous shelter.
That was until Darrell Chulack and his family came along. "My daughter Kristen had seen Rusty on Facebook and kept telling me to adopt him. I went down to the Humane Society after two weeks of her nagging me and visited Rusty. He came over and started licking my fingers and his tail was wagging. He actually melted my heart," Chulack told Newsweek.
"The reason I adopted Rusty was he already had enough pain and grief in his life. Rusty was a senior dog with a disability and my heart would not let me leave him there so I adopted him right there. My family and I gave Rusty a new lease of life."
Now he lives with his adopted siblings chihuahuas Bella and Chalupa, along with cat Tarzan, and his new family vowed that "even if he only has one more year, we'll make it a great one."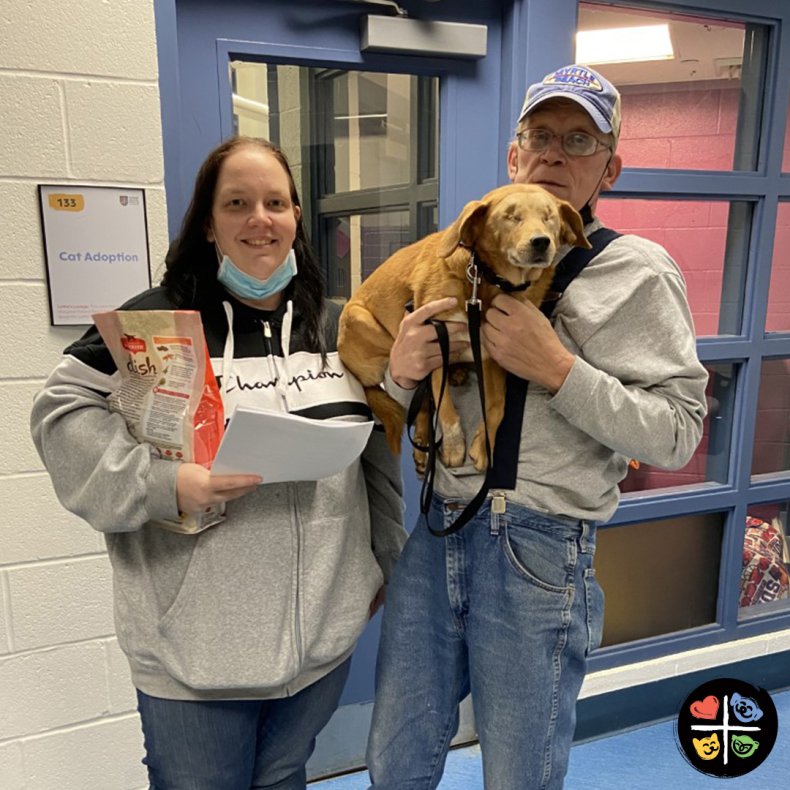 Nurse Adopts Patient's Elderly Dog After Ill Health Forced Him to Give Up Pet
When 60-year-old patient John Burley was hospitalized, he had to give up his dog Boomer to the Rome Humane Society.
It didn't take long for New York nurse Jennifer Smith, who works at the Adult Day Healthcare at The Grand Rehabilitation and Nursing at Rome where Burley was a patient, to know what to do—she adopted Boomer herself.
"She went right to the Rome Humane Society that day and paid the adoption fee, took him to the vet, and went on a shopping spree for food, crate, toys, and doggy clothes. He is very spoiled," Kimberleigh Hare from The Grand Rehabilitation and Nursing at Rome told Newsweek.
When Burley was discharged from his hospital stay, he needed rehabilitation, and decided The Grand Rehabilitation and Nursing at Rome was the right choice.
"On the day of his hospital discharge, Jennifer dressed Boomer in his best Christmas shirt and brought him to work. John had no idea," recounted Hare.
"Once John was settled in his room, Jennifer and Boomer made their way over to his nursing unit—but I told her to stay out of sight. I asked John if he was feeling up to a surprise visit and he said yes.
"When he saw Jennifer and Boomer come around the corner, he just burst into tears and reached for his pal. There was not a dry eye in the room between residents and staff. He was so happy to see the dog and so thankful to Jennifer for saving him."
Now, Boomer makes daily visits to work with Smith, where he "has become the mascot of the adult day program."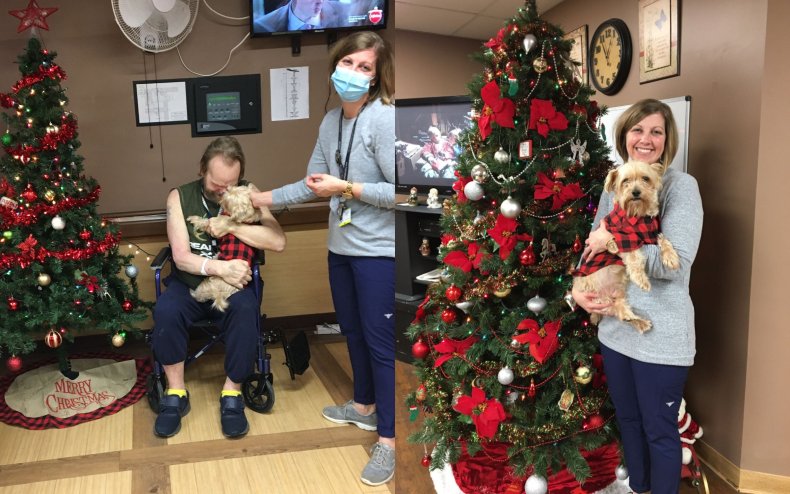 101-Year-Old Woman Adopts Oldest Cat in Shelter
The adoption of a North Carolina animal shelter's oldest cat was described as a "match made in heaven" in October after a 101-year-old woman named Penny welcomed him home.
Nineteen-year-old cat Gus was given up to the Humane Society of Catawba Count in September after his previous owner's work commitments meant they could no longer care for him.
Penny's family was on the lookout for an elderly cat to keep her company, and turned to the center to find one.
"The adopter's family contacted us asking to adopt a senior cat for their mother. She had recently lost her cat and although they had given her a stuffed cat, she wasn't happy because it didn't purr," Jane Bower, Humane Society of Catawba County's executive director told Newsweek.
"We were cautious because of the age of all parties but the family said they were willing to care for the cat on behalf of their mother."
All hesitations were immediately eased, as Bower described the adoption as a "match made in heaven," with Gus settling into his new home with Penny. "[He has] made himself at home and eating like a horse," she said.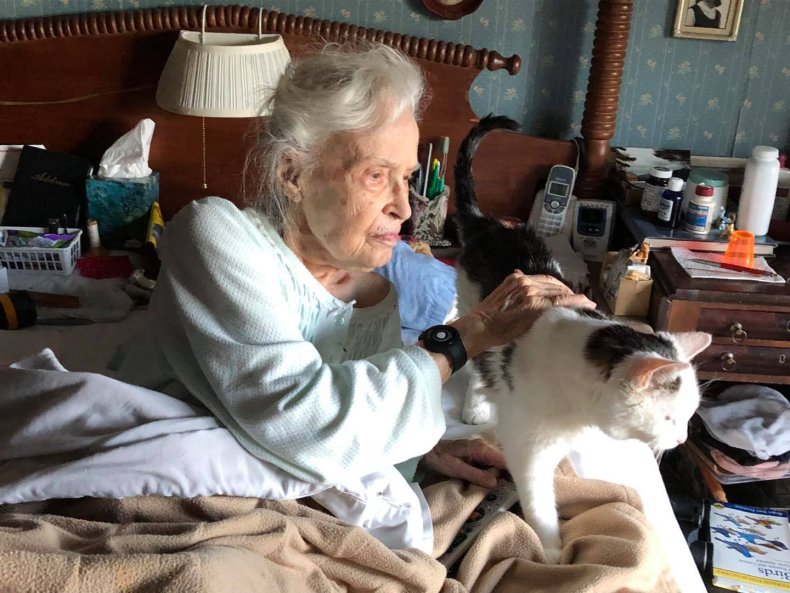 Owner Adopts Companion Dog for Nearly Blind Pup, Discovers They're Siblings
After Tennessee dog owner Jane Flanders Salazar discovered her pet Diego would likely turn blind in the future, she rescued a companion dog to help ease the process. She soon discovered they were actually full siblings.
Salazar and her husband used the dog DNA testing site Embark, with the intent of simply discovering Diego's breed—Pitbull and Australian Cattle Dog. His health results however gave them more than what they expected.
Then 2-year-old Diego has "two copies of a bad eye gene" meaning blindness was almost guaranteed by the time he was 5. With no treatment available for preventing his vision loss, Salazar was recommended to find a companion dog to help Diego through the process.
Turning to local rescue shelters, Salazar discovered a dog who looked similar to Diego, named Dixie. "It looked a lot like Diego, but smaller, and so we pursued adopting her and our application was approved," she explained to Newsweek.
After Diego's health discovery, they again used Embark to find out more about Dixie's health, but instead discovered her to be a full sister of Diego. "That was pretty shocking," she said.
Already, Dixie has been helping Diego socially and the pair have sibling relationships many will recognize: "Dogs that are losing their vision are a little bit reactive and defensive, because they don't see as well. And so he's not the best at playing like he was uninvited to go back to doggy daycare, because he just is not the best at playing stuff," said Salazar. "But she plays with him beautifully. I mean, she can, she can take whatever he gives her. They love each other. I mean, they kind of rough house a lot. But she's, she's been very good for him socially."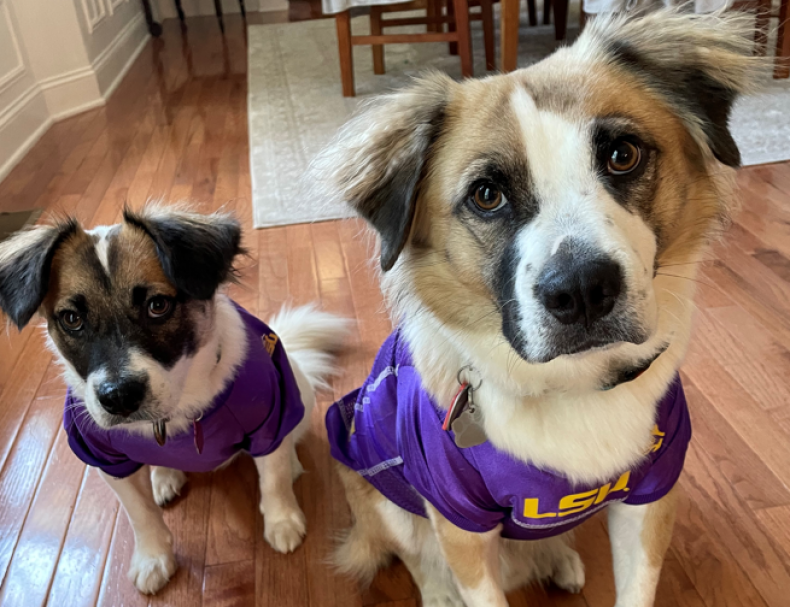 Firefighter Rescues Stuck Kitten, Adopts It Weeks Later
Michigan firefighter Brandon Mulvaney was part of the team called in to help rescue a stray cat trapped in a drain. Now, his family is the forever home of that same kitten.
In August, Saginaw police were dispatched following reports of a stray kitten stuck in a storm drain at 1:00 a.m., but without the needed tools and expertise, it was on the fire department to come to the rescue.
With a gas monitor and net, Mulvaney descended around 7ft below the pavement before crawling through a pipe for 10 feet, finally finding Huntley the kitten.
"After a few minutes of waiting and calling from the cat, it peeked out of the pipe and I grabbed it and carried it out. At that moment I knew I wanted the kitten because it came right to me," said Mulvaney.
When Huntley was rescued, he was just a few weeks old and weighed only 7lbs. Mulvaney heard back from Saginaw County Animal Care and Control within a week, and decided then and there to adopt.
"During this phone call, when I decided to adopt it, it deserved a better life than being a feral cat when it got older," he said.
Now, Huntley lives at home with Mulvaney, his wife, their kids and their two dogs.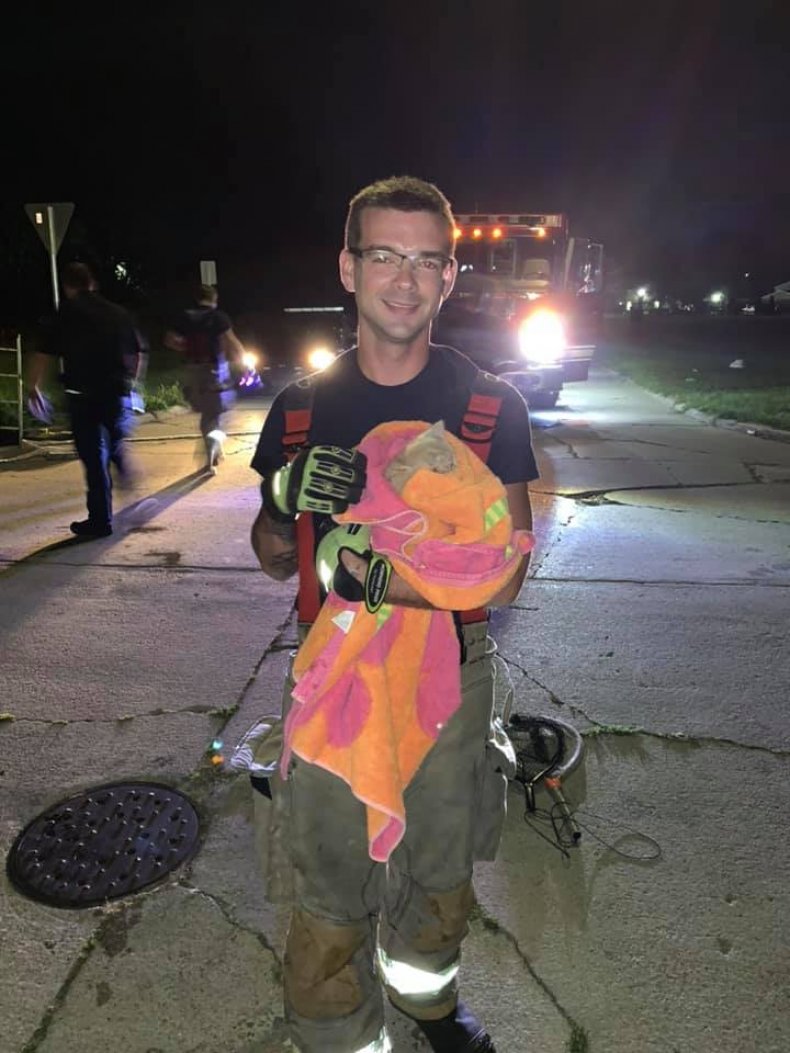 'Bait' Pup Who Lost Half Her Face to Brutal Dogfights Learns to Love Again in New Home
A mutt used as "bait" by dogfighters was left so injured that she lost half of her face, including an eyeball. Haddie now has learned to love again after finding companionship with new owner Erin Williams.
Haddie was rescued by a good Samaritan in the area who took her to Mutt Scouts in South Carolina, where donations funded high vet bills from her injuries.
"Haddie was used as a bait dog, which is what dogfighters use to 'train' their fighting dogs by encouraging them to attack the bait dog. They are subjected to repeated abuse and attacks as the fighting dogs learn to be aggressive towards them. All dogs in this situation are victims," WIlliams told Newsweek.
"She had injuries all over, but the worst of it was on her face. The skin around her eyes and mouth had been injured so badly that it was barely attached anymore and falling off. Much of it had to be removed, as did her right eye.
"They had to remove most of the skin and one eye to save her life. It was essentially rotting off already—I've seen 'before' photos, and it's really gruesome. The injuries came from the forced attacks from other dogs."
Initially, Williams was looking for a dog similar to her previous pet, Elly, but kept seeing Haddie's image on the adoption page. Unable to stop thinking about her, she decided to apply to adopt her anyway.
Williams needed to give extra care to Haddie, who was still recovering, adding: "Much of the serious medical care happened before I adopted her. When I got her, her face was still healing, so my job was to make sure the area was kept medicated as it healed into scar tissue and help her understand that she would be safe and loved for the rest of her life."
Now, Haddie has learned to love again and is no longer fearful of other dogs. "She loves other dogs! It's so heartwarming to see, considering how fearful she was when I adopted her. We have a park near our apartment and we go almost daily. I really love seeing her run around and play with the other dogs, it shows how much of a normal, happy, spoiled pet she is now," said Williams.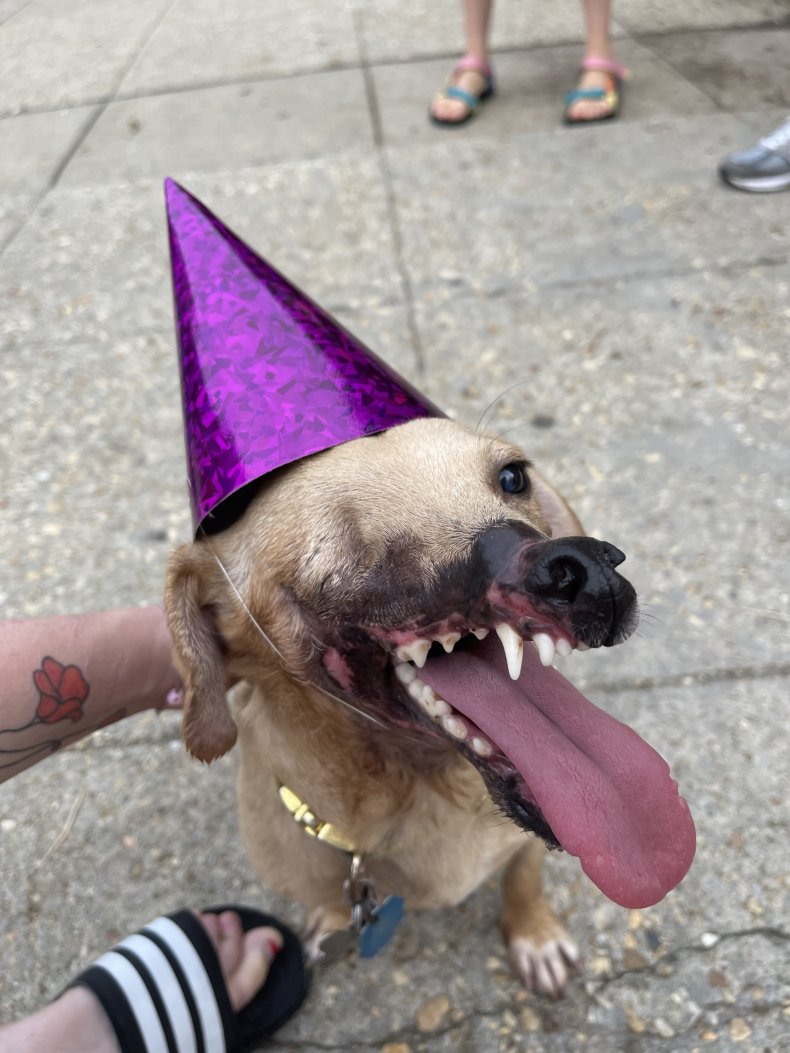 Huge 130lb Mastiff 'Falling in Love' With Tiny Orphaned Kitten
In a mix of an adoption and foster story, a teeny kitten became surprising best friends with a 130lb mastiff in her foster home.
Tiny kitten Sonic came to mastiff Norm's home in October as a temporary foster kitten, and the pair unexpectedly bonded.
"We knew that our Mastiff, Norm is very gentle with children and puppies, but he had never met a kitten that young before. We introduced them and watched them closely to make sure the kitten was safe. The kitten sensed Norm's body heat, and immediately curled up next to him. Norm sniffed him, then rested his head gently over the kitten to keep him warm. He was very careful not to step on the kitten, and he instantly started acting like a mother," owner Julia told Newsweek.
After going viral for videos of the adorable friendship, Julia was met with pleas to adopt Sonic to solidify the union, but it just wasn't possible. Instead, Julia's friend has decided to take Sonic in permanently, in her home with a Norm doppelganger for the kitten to love just as much.
"I'm trying to spread the message that yes, I ended up adopting Norm, but that was because I had the time and room in my house to give him the best life possible. We currently have one dog and two cats, and adding a third cat would put stress on our adult cats. You can't keep every foster animal and continue to foster," said Julia.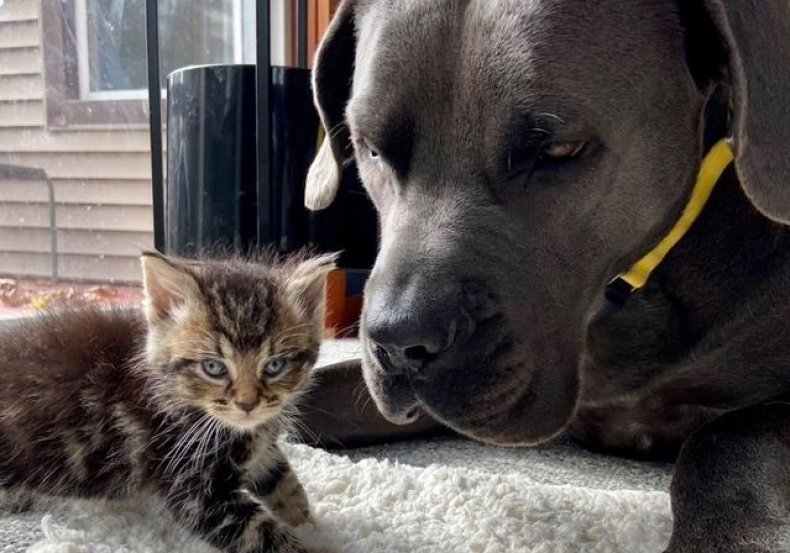 One-Legged Man Adopts Three-Legged Dog, Leaving Internet in Tears
The heartwarming moment a man with a prosthetic leg adopted a three-legged dog went viral in July after the Inland Valley Humane Society shared a clip.
In the footage shared to TikTok, a German Shepherd with only one front leg can be seen lying on the floor as the overlaid text reads: "This dog came in with a fractured right leg our vet staff had to amputate the leg."
"After a month here…you won't believe who adopted him. He was so excited to meet his adopter," it continued.
The dog was adopted by a veteran who lost his during deployment. In the video, the two can be seen outside the shelter in Pomona, California, before they walked out of the gate together and down the road.
"We wish them the best on their future adventures," wrote the shelter.
Woman Mounts Rescue Mission in a Plane Saving 27 Puppies From 'Kill Shelter'
Cassandra Dianna Marie helped fly 27 puppies from Enterprise, Alabama to Orlando, Florida in a mission to save their lives.
In a video shared to her TikTok, Marie showed the cabin filled with dogs, while puppies even slept on her knees.
Dozens of dogs were being saved from an "overcrowded high kill shelter" in Alabama, but now, Marie claimed, all have been adopted while one is even training as a police dog.
"We went by weight. Every pound counts. We even left our waters," she said. "They run around a bit before boarding so they take a little nap. The flight was short!"
She claimed the pups were "cute and smelly," admitting: "My leggings were soaked in pee."
Police Save K-9 From Euthanasia After Previous Force Didn't Want Him
The City of Spring Hill Police Department in Kansas saved a K-9 from euthanasia in November, after it was discovered he would need kidney surgery.
Belgian Malinois/Shepherd mix Loki was originally purchased by the Olathe Police Department from a kennel in Pennsylvania, with the intent of serving as their newest police force dog.
After a scan however, Loki was discovered to have an underdeveloped kidney in need of removal in the near future. The kennel offered a replacement dog to Olathe Police free of charge, but informed them that Loki would be euthanized on his return.
That's where the Spring Hill Police Department came into it. The department adopted Loki to replace its current K-9, Niko, who is set to retire.
Despite being set to have his kidney removed, Loki is still healthy enough to work, said vets, and will be able to continue even after he has healed from the surgery.
A Christmas Miracle Adoption
Just two days before Christmas, a dog who has previously suffered with a severe eye infection and "a ton of hair loss" was heartwarmingly adopted.
The SPCA Cincinnati shared the story to Facebook, explaining that "Strike had a resilient spirit—as his tail never stopped wagging and his eyes never dimmed."
We will miss you Strike but we wish you the very best! Keep shining on and defying all the odds," they added.